Manufacturing ERP refers to an enterprise resource planning (ERP) system and software designed to manage, plan, and deliver specific operational functions that support manufacturing firms' businesses. These Manufacturing Management
functionalities include production planning, inventory control, production scheduling, resource planning, raw material planning and execution, quality management, financial management, and supply chain management, among others. OneBusiness manufacturing ERP applications seamlessly integrate into an organization's existing business processes, making it a comprehensive business management solution for all types of manufacturing industries. They can significantly improve the productivity of operations by helping them manage their time and cost-effectively while also automating their processes.
OneBusiness manufacturing ERP software offers many benefits and capabilities to ensure integration with the rest of the manufacturing firm's workflow. For example, Our ERP software systems provide a full range of functionalities including manufacturing forecasting and production management. The manufacturing Management module is useful to generic production industries. Also, we have the tea factory specific processes in OneBusiness ERP.

OneBusiness ERP Production Planning Production order allows for the planning and executing of production processes in a manufacturing environment.
ERP Production management software or production scheduling software plays a significant part in any Manufacturing Industry. Planning your production with an order provides the following benefits:
Understanding of resource requirement and availability
Raw material position and automatic purchasing
Production capacity assessment
The average duration of an order
Cost of production of a product in real-time
Utility consumption trends and corrections
OneBusiness Production management software can track day-to-day production progress on completing any work order. In addition, reports will be available in this module.
Production planning software helps an organization plan production, planning with the best use of all available resources.
Maintaining a smooth workflow improves the work environment due to reduced labor and production costs.
OneBusiness ERP production planning transactions: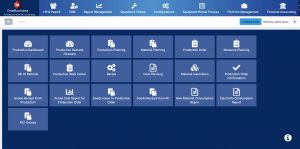 ERP Production Planning Software Dashboard:
The Production planning dashboard gives you a quick overview of every product's production, sales, and stock.
This report consolidates the view by week, month and year.
Production Planning Software Demand Forecast: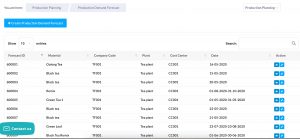 This transaction is a planning platform for your primary production of various products. You can obtain the forecast figures from an external source or your past historical records.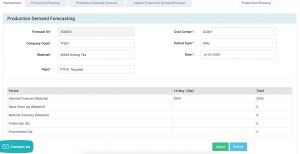 Production Planning Process

The production planning transaction will adopt the planning values from your production forecast. In addition, you can change the forecast values before automatically creating the production order.
Material requirements planning (MRP) is a process by which a system calculates the materials and components requirements to manufacture a particular product.
It consists of the following essential steps:
1. Bill of Material, which will encompass the primary raw materials for the product
2. Recipe for a product will cover the utility and other requirements for the production process
3. Production order material and planned quantity as a starting point for the material planning
4. Stock item or a non-stock item based on the company policy and the delivery timeline of the product
5. Create a reservation or a purchase requisition for the requirements quantity.
OneBusiness Production planning will perform all of the above tasks automatically with minimal input from the user.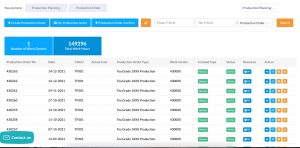 A production order is a cost object/document that records the manufacturing quantity for a product, the requirements date, resource/capacity requirements for the production and delivery details of the product.
OneBusiness ERP production planning can create automatic production orders with the reservation of materials (stock items), purchase requisitions and automatic resource assignment. For mechanical resource assignment, maintenance of Work center and resources are essential prerequisite.
The production order confirmation screen will propose the consumption quantity based on the recipe record. In addition, users can enter the actual meter readings for consumption.
The system will calculate the production order cost. Users can enter a timesheet for a production order and post it as an actual cost. It is an optional step if the organisation wants to calculate the actual cost of the production order instead of conventional cost allocation methods.
After the production order confirmation, users can do goods receipt to the inventory of the product. This action will result in accounting entries.
ERP production planning-Resource Planning: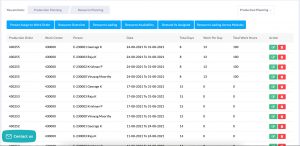 We can assign resources to a production order automatically. We will use the Work Center and its resource assignment for this purpose.
Users can continually readjust the automatic assignment based on the business scenario. This action will result in Production orders appearing in the individual employee's Time sheets.
Users can enter the actual hours worked on a production order to precisely calculate the resource costs.
The resource costs will appear in the production order confirmation screen. OneBusiness Production planning has a facility to deactivate the resource planning for a production order completely.
ERP production planning-Bill of Material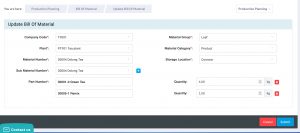 Production scheduling tool-Work Center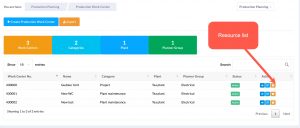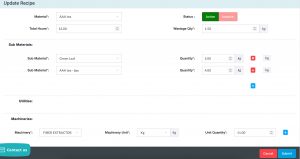 Even though it is an optional step there are numerous advantages in doing this transaction. It gives an opportunity to compare the plan and actual costs of a production order. OneBusiness ERP production planning is an easy tool for cost planning. The learning of the deviations during the production order processing will improve the operational efficiency.
Material Reservation

The production planning process will create reservations if the raw material is in stock. Else, it will create a purchase requisition. Therefore, it is always good to keep the raw material in stock for a definite period.
Production Order Confirmation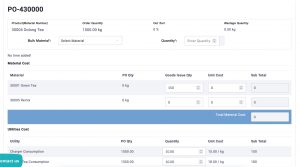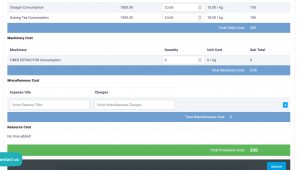 When the production process is complete, users can confirm the production order with the actual consumption of raw materials and utilities. The transaction calculates the actual costs.
Goods Receipt from Production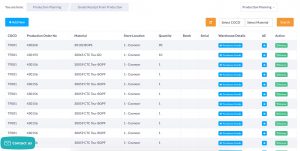 This transaction happens immediately after production order confirmation. As a result, the warehouse inventory quantities increase. In addition, the accounting entries for the inventory takes place during this transaction.
Actual Cost Report for Production Order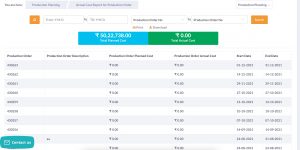 This report will be a handy one to find out the production order actual cost. Also, it will provide information on the planned cost for comparison.
Goods receipt from Recycle
This report is helpful to check the recycled material used by production order. In addition, this report will also record the warehouse details of the recycled material.
Raw Material Consumption Report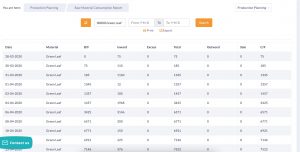 This report displays Raw Material consumption by day. In addition, this report also provides information on the initial stock, production order consumption and closing stock.
Electricity Consumption Report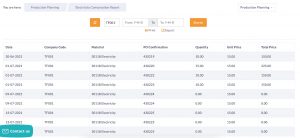 This report displays electricity consumption by Production Order. This report also provides information on the unit and total costs by date.
Please check our
FB
page for regular updates and revisions.